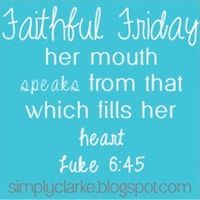 On its face, Psalm 31 looks like a
desperate prayer
. David is in a state of distress as he begs the Lord to deliver him from the trials he faces!
Have mercy on me, O LORD, for I am in trouble;
My eye wastes away with grief,
Yes, my soul and my body!
For my life is spent with grief,
And my years with sighing;
My strength fails because of my iniquity,
And my bones waste away.
I am a reproach among all my enemies,
But especially among my neighbors,
And am repulsive to my acquaintances;
Those who see me outside flee from me.
I am forgotten like a dead man, out of mind;
I am like a broken vessel.
For I hear the slander of many;
Fear is on every side;
While they take counsel against me,
They scheme to take away my life.
-- Psalm 31:9-13 (NKJV) --
David feels alone, and his loneliness is taking a toll on his physical and mental health. I can relate to his pleas! However, rather than allowing loneliness to turn into hopelessness, David remembers the times when God saw him through other trials. He recalls:
"You have known my soul in adversities
And have not shut me up into the hand of the enemy" (vv. 7-8)
and,
"For I said in my haste,
'I am cut off from before Your eyes';
Nevertheless You heard the voice of my supplications
When I cried out to You." (v. 22)
David realizes from past experiences that God is on his side! Instead of blaming God or becoming angry, David resolves to put his trust in God:
"But as for me, I trust in You, O LORD;
I say, 'You are my God."
My times are in Your hand" (vv. 14-15)
Furthermore, he instructs us all to do the same:
"Oh, love the LORD, all you His saints!
For the LORD preserves the faithful,
And fully repays the proud person.
Be of good courage,
And He shall strengthen your heart,
All you who hope in the LORD." (vv. 23-24)
What an amazing role model David is for all of us!
Side note: I also use Psalm 31 as a model for prayer. It's hanging up on the wall of our office at home. Sometimes I read through it, and use Post-Its to write mini-prayer reminders that relate to a particular verse. Then I pray through them all!
xo Christina